An Essay on Journey by Boat for classes 3, 4, 5th & 6th provides an interesting story in about 400 words. I have described my essay by using the following keywords. This will make it easy for students to comprehend the main points.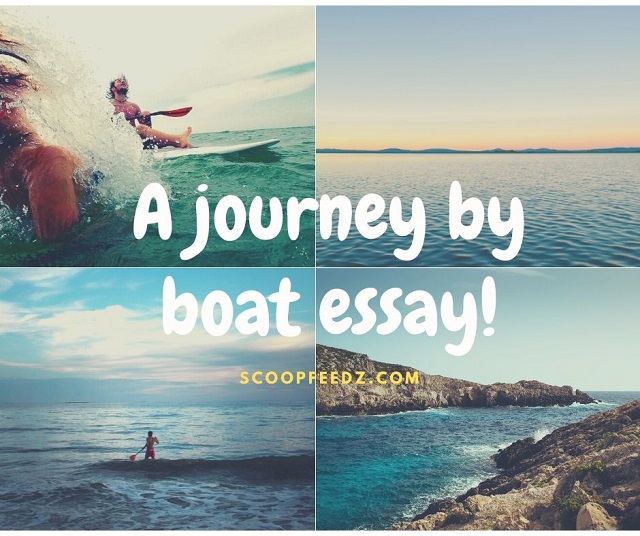 Contents
Essay on Journey by Boat
Introduction (Time & place)
The scene at the Ghats
How did I enjoy the trip?
Conclusion
Introduction
Last year I went to Varanasi (a beautiful city in Uttar Pradesh) with my friends. We all enjoy the day by taking a pleasure trip in a boat. So we enjoyed two hours roaming in the boat. Our boat was new and was painted brightly.
READ ALSO | ESSAY ON JOURNEY BY BUS FOR CLASS 1, 2, 3, 4, 5, 6 & MORE!
The scene at the Ghats
There were three rowers. They began to sing. We looked towards the Ghats. We saw many people bathing and praying the sun was shining brightly.
The water of the Ganges was clear. At the top, the temples were shining like gold. The whole atmosphere was bright and gay. Within an hour we reached the opposite bank of the river.
How did we enjoy it?
Then we took a rest for some time, my friend Raju had a camera with him. We capture various beautiful scenes.
My friend Ramesh has a large collection of old songs; we sat there and listened to songs. We all were hungry and decided to have some refreshments, so we took tea, biscuits, and samosas with us.
We continued our journey; the boat was moving sometimes this way or the other. Some women were filling their pots with the holy water of the Ganges.
They were singing their folk songs. Some Sadhus were worshipping at the Ghats, some were reading the Ramayana. Some were standing in the water.
Conclusion
We were very happy. My friends like the program very much. The day passed in joy. We paid 300 rupees to the boat owner. Then we returned home with sweet memories.
LATEST READ