This article is dedicated to students who are searching for My School Essay in about 500 words, the following outlines may be used.
Do you consider your school to be an ideal one? I have described briefly various activities at our school.
At the end of the post, you will see short paragraph & Quick 10 Lines on School Essay for students of class 1, 2, 3, 4, 6, 7, 8, 9, 10 & 12th.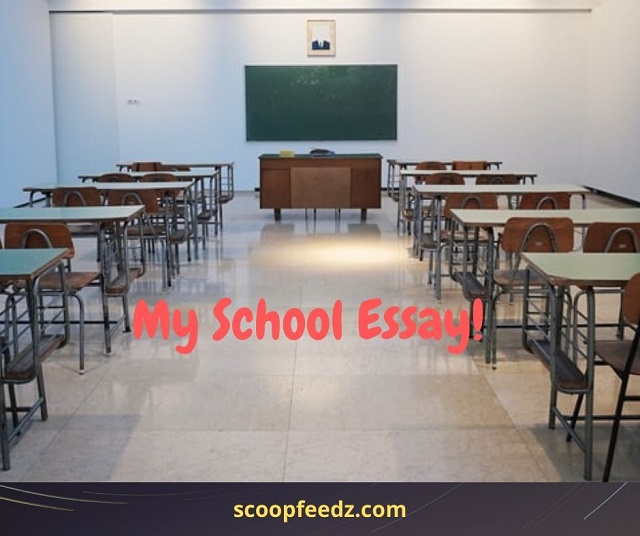 My School Essay | Our School Essay
Outline:
Introduction (Name and Site)
Building
Teachers/Faculty
Students
General activities
Discipline and result
Introduction
The name of my school is KVA Higher secondary school, Pithoragarh. It is located on the main road near the Army Camp. It is in the most populated part of the city.
Building
The building at my school is well structured, looks beautiful. It has twenty rooms, electric fans are fitted in every room, all the electric wires are well insulated. There is a big-hall in the centre.
Near the hall, there is a library. There is a separate block for junior boys. It is called as Dixon block.
Teachers
There are thirty teachers in our school. All of them are well qualified, experienced and hardworking. They take care of the students and give individual attention to every student.
Shri R.V. Suri is our School principal, he polite. He is maintaining the school decorum, he doesn't like indiscipline.
Students
Our school complex is huge. There are one thousand students in our school. They are very sincere and painstaking.
They obey their teachers. Very frequently, students willingly take parts in debate, scouting and games. Some of our school students secured top position in Board examination every year.
General activities
The principal is very fond of extra-curriculum activities, and he always motivates the student to participate in. Games are compulsory for all.
There is a good arrangement for games, scouting & debates. The teachers and principal encourage students to take part in them.
Discipline and result
My school has a good reputation for discipline. It has got always more than 80% in the high school examination.
It is, therefore, considered one of the best school in the district. I considered my school is idle one for everyone.
RELATED: Essay on School Annual Day Celebration
10 Lines on My School Essay for Class 1, 2, 3, 4
I have summarized My School 10 Lines for those students searching for quick information on school. You can use these lines to prepare your assignment by changing few sentences.
My school classes start from nursery to 12th standard.
It is co-education, boys and girls.
My School has a huge library, equipped with all sort of books.
Our school has a big playground in the district, lots of extracurricular activities happen very frequently.
Our school is a multi-story building, the total strength of our school is 1500 hundred.
My school is known for discipline and quality of education.
School teachers are highly educated.
Our school has a good reputation for being the top 3 schools in the district
Teachers give individual attention to individual students.
I learned a lot from school, I have the highest regard for my school.
My School Essay for Students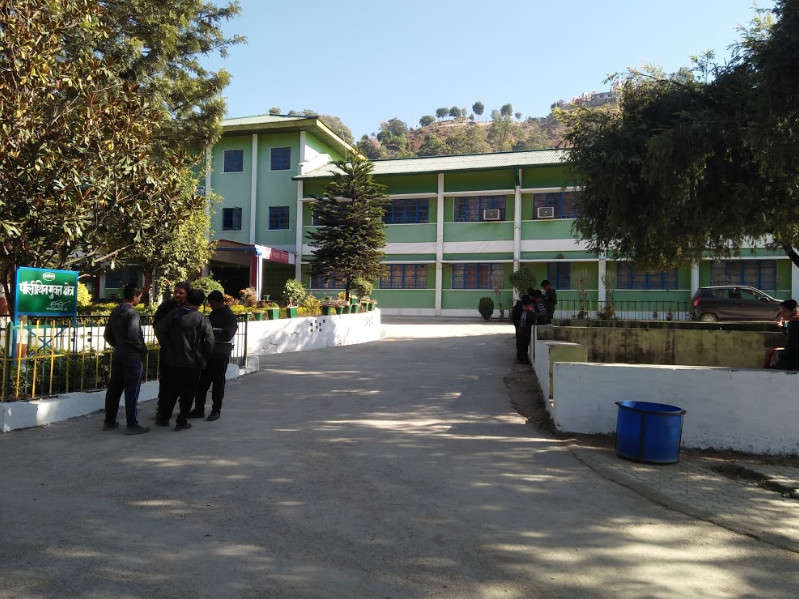 I have covered all the important points in this short essay on my school. With the help of this, you too can make your own essay quickly.
My school name is Kendriya Vidyalaya, Noida. We have large school premises, it is located in the city centre, hardly 5 kilometres from my house. It is a three-storeyed building, well-maintained infrastructure.
Our Principal Mr Tribhuwan Joshi is a gentleman, he is kind-hearted. He is very particular about school rules & guidelines.
He is very strict about discipline. Everyone is following it & maintain the school decorum. We gathered at the playground in the morning and offer morning prayers and then goes to their respective classes.
It has a large library, well equipped with books of all kinds. There is a science laboratory where senior class students do practicals.
There is a computer lab on the second floor, and a good arrangement has been made, there is a separate study section for boys and girls.
We have got a big playground for all sports activities, Students play during recess time or in the game period.
Our school has all facilities that required, such as RO drinking water, school staff are very serious about sanitation, hygienic toilets are sanitized regularly.
Our school maintained a perfect ration of Teachers to students so that they can take individual attention to students.
Our teachers not only teach study books but also give practical knowledge about life. I love my school and the highest regard for all my teachers.
MUST_SEE:
Essay on My Last Day at School