In this article, I am going to explore the heart and soul of the town where I grew up. A quick journey through the streets and landmarks with My Hometown Essay for classes 1, 2, 3, 4, 5, 6, 7, 8, 9, 10, 11, & 12th, is about 150 words & 400 words based on the following headings.
Contents
My Hometown Essay in English
Introduction (Name and situation)
Climate
The main occupation of the people.
Centre of trade
School and Colleges
Modern facilities
Conclusion (Like it or not)
Introduction
The name of my town is Noida. It is located near Delhi. Noida is a high-tech city in the Delhi-NCR region. Noida is the main city of Gautam Buddha Nagar. It is just a few kilometers from Delhi.
Climate
The climate in my hometown is too hot in summer and too cold in winter for only a few days. There is sufficient water in the rainy season, so there is no shortage of water in any season.
The main occupation of the people
People from all walks of life live here. Among them are IT professionals, software engineers, businessmen, farmers, shopkeepers, and laborers.
Centre of Trade
The town is the center of trade. It is famous as an industrial town. There are many big MNCs (Multi-National Companies), large-scale factories, and several smaller factories.
Schools and Colleges
There are various schools and some of them are of international standards. My school is DPS Noida, located near sector, 30.
In my town, there are several engineering colleges and degree programs. They are known for their discipline, results, and other achievements.
Modern Facilities
All modern facilities are available here. Transport is equally convenient here, and the metro makes traveling safe and easy.
The city's public transportation runs on CNG, as well as private buses, autos, and battery rickshaws. In Noida, there are municipal parks in almost every locality.
The Noida Stadium sector-21 is a popular venue for events, functions, and exhibitions of all sizes.
Greenery is what attracts people to the park, and morning and evening are excellent times for exercise and jogging. It is a must for everyone to keep healthy and fit.
There are playgrounds, matches, and games played there. The market is electrified. Atta Market and GIP Mall are the most popular shopping malls in Noida.
There are some reliable stores to shop at, and home to many big & trustworthy publishers, too.
Conclusion
I love my town very much. There is greenery and the environment is pleasant. Modern facilities are well-developed and well-equipped. My wishes for its progress and prosperity are always the same.
READ | QUICK Essay on Country Life vs City Life!!
Essay on My Town Prayagraj (Old name Allahabad) | My Town Essay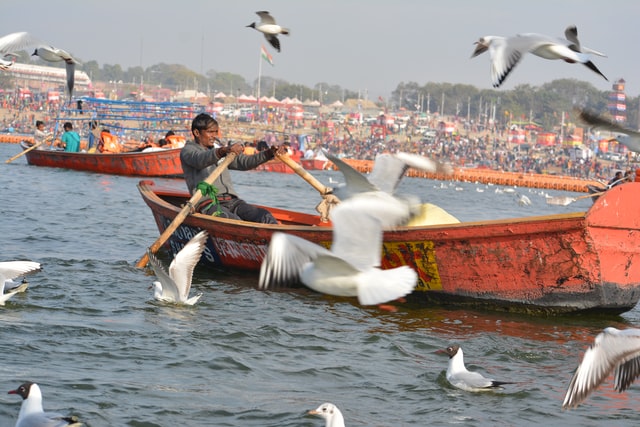 The town I lived in once was famous for one thing: it was home to the first three Prime Ministers of India.
Jawahar Lal Nehru was born in Prayagraj, Sri Lal Bahadur Shastri had a house here, and Indira Gandhi grew up here as well. Anand Bhawan, donated to the nation by the third Prime Minister, is now a place of historical importance.
Prayagraj is situated near the Sangam, the place where the two rivers, The Ganga and the Yamuna, meet. Thousands of tourists and pilgrims come to Prayagraj to dip in the Sangam.
It is a serene city because there are not many industries around. However, Naini, a suburb of Prayagraj, is a rapidly developing industrial hub.
There are a number of agricultural institutes, the Indian Telephone Industry, Universal Tyres factories, and a glass factory.
The city of Prayagraj has the Jeep Flash Light factories which make batteries. There are a few spots in Allahabad which have scenic beauty.
Visitor attractions include the old but majestic stone buildings of the High Court and the offices of the various departments.
Prayagraj is famous as a Hindu pilgrimage center. Tourists around the world come here to learn about this auspicious place. The main office of the Board of Secondary and Intermediate Education is situated in Allahabad.
The headquarters of the education department of Uttar Pradesh is located in Allahabad. The University of Allahabad is among the oldest and most prestigious universities that have produced many scholars.
The markets of Allahabad are not as extensive as those in metros like Delhi, Kolkatta, Noida, Bangalore, Hyderabad etc. Yet the Civil Lines market offers some attractions for outsiders.
Visitors want to see the street stalls, the picture houses, the fountain in the center of Civil Lines, and, above all, the Hanuman Temple.
Allahabad (now renamed Prayagraj after Yogi Adityananth took the oath as CM) City in Uttar Pradesh is associated with many historical stories. It is evident by the name Prayagraj, which means "the abode of God".
YOU LOVE TO EXPLORE