Short & precise Essay on Railway Journey for class 1, 2, 3, 4, 5, 6, 7, 8, 9 and class 10th, in about 300 words, I have described my short story on train journey based on the following headwords;
When and where I had to go and from which place?
The scene at the booking office
The scene at the platform such as arrival, departure, coolie, station officials etc.
The fellow passengers in the compartment.
The scene at the different railway stations on the way
Arrival at the station
Read: Essay on Importance of Discipline in Students Life
Essay on Railway Journey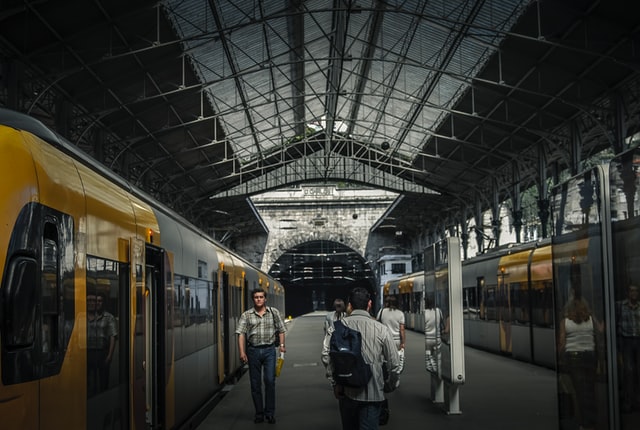 Introduction
Essay on a trip to Allahabad by train: It was a month of February. People were going to Allahabad to bathe in the holy waters of the Ganga and the Jamuna. I also arranged to go there with my friends.
The scene at the Booking-office
There was a great rush before the booking-office. People were standing in line. Finally, we got tickets with much difficulty.
The scene at the Platform
The platform was full of passengers. Hawkers were selling fruits, sweets and other things. Coolies were busy bringing the language of passengers.
Some railway officers were busy in their work. We waited for ten minutes. The train came. It was full of passengers, so it was a bit difficult to reach to reservation berth, finally, we settle down to our seats.
The fellow passengers in the compartment
The scene inside the compartment was very interesting. Some people were playing at cards, a young boy was signing, and some old men were sleeping.
A Punjabi was selling locks, books etc. Sometime later TTE (Traveling Ticket Examiner) came in our coach, to check every passenger ticket to verify it.
Scenes at a different station on the way
The train stopped at the several stations on the way. At every station, passengers came in. The platform was full of passengers, hawkers were selling different things.
Conclusion
There was nothing unusual in the way. No accident took place. At about 7 p.m, the train stopped at Allahabad. We left the compartment; we came out of the station. I really enjoyed my journey by train.
Also read: Essay on Journey by bus (For School Students)