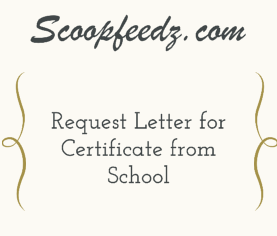 How to write an application to the Principle of your school requesting to give you a certificate or a testimonial?
To
The Principal,
Govt. Higher Secondary School,
Meerut.
Sir,
My father has been transferred to Nainital. As I have joined the Government college at Nainital. I need a certificate or testimonial regarding my character and conduct.
I may bring to your kind notice, sir, I joined this institution in 2017, I have always stood first in my class. I passed IX class examination in the first division, getting 71% marks in the aggregate.
I was a member of the Hockey Eleven last year. I was also declared the best actor in the school drama competition last year. I was always obedient and respectful to my teachers.
Thanking you,
Yours faithfully
Rakesh Khanna
Roll No – 21, XA